TouringKarts
can be compared to a Mario Kart in Virtual Reality. It offers a full 3D experience for those that aren't susceptable to motion sickness as well as a Cinema mode, where you sit back and look at a large screen in front of you (similar to how you would normally use a computer)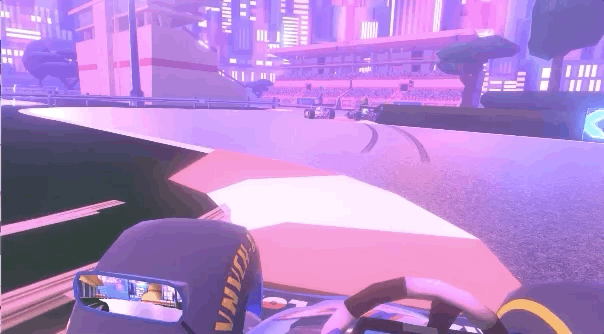 Ivanovich Games, are currently offering a promotion where if you win 3 games in a row in their steam demo. You will unlock the full game for free! But don't wait too long, you only have until the 22 of December!
Features:
Up-to 8 players Online Multiplayer support with no waiting times. You will be training against the AI meanwhile your rivals enter the circuit.
3 Online Game Modes: Unique Daily Cups, Custom Play with your Friends and Random Play.
Story-based Mode with more than 500 original challenges (+120h to complete) with collectible prizes. It can be completed in Single Player or Multiplayer Mode.
Craft up-to 45 new power-ups by combining the ones you already have and surprise your rivals!
Power-ups originally designed to be used in VR, can also be enjoyed on non-VR platforms.
3 views to choose that are specifically designed for VR: One free of dizziness, a classic one in 3rd person and the more immersive first-person view.
22 tracks and 30 customizable cars, all inspired in Formula 1 tracks and teams.
Multiple Controls Compatibility: FFB steering wheels, motion simulators, VR controls with hand movement detection, classic controls, 3dRudder, etc.
Quick Race Mode with all cars and tracks available from the get-go.
So, what are you waiting for!? Head over and download the demo now!